I do believe that setting a festive table and inviting friends over is one of my favorite things to do in life.  Dreaming up pretty table settings is so much fun!  


Today, I am planning for our "Supper Club" dinner party.  We have been blessed to be in this group, with three other couples, right at seven years.  We each take a turn hosting it at our house.  My turn to host is coming up next month.  I started planning out the table arrangement today. 


1)  The china dinner plate is "Eternal Gold" by Lenox, the pumpkin salad plates are from Pottery Barn, the silver ware is from Walmart (a knock off of a much more expensive set found at Horchow).  The adorable flower napkin ring is a gift from my dear Mom (this past weekend).  *Stack up the two plates, and thread a cream colored napkin through the napkin ring and, you are done! 


2) This place card setting literally is complete in 2 minutes.  Use a small container.  Fill half way with brown shredded gift basket paper.  Set a tiny pie pumpkin on top of the shredded paper.  Use pinking shears and, cut out a small piece of a festive fall napkin.  My napkins were purchased at Hobby Lobby.  Write the guest's name on the small piece of napkin and attach to the pumpkin with double-sided tape. 


3)  Here is another way to set up this table.  Fold the napkin and place it vertically under the salad plate.  Place the guest's name 'card' right on top.  Very classic and clean looking.


4)
Do not forget the party favor!  I love to give party favors to our dinner guests!  This one is super easy and, who wouldn't love a pot of home made hazelnut cinnamon coffee on a cold day?  *Easy to make!  Open up a clear cellophane gift bag.   Add 6 large tablespoons of hazelnut coffee and 1 teaspoon of ground cinnamon.  Stir up in the bag.  Tie with a pretty ribbon and a cinnamon stick.  Use a label and write down the name of the coffee.  

Ready!

 
I hope you will plan a fall dinner party right away!  Plan a yummy menu, set the table and, invite a few of your favorite friends over.  Enjoy! 


Hugs & Flair,
Beth


Happily Linking To: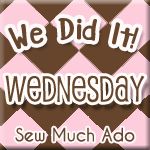 Eisy Morgan


Very Merry Vintage Style


Some Day Crafts
Raising Homemakers





504 Main

Chic on a Shoestring Decorating
KOJO DESIGNS